NutriTokri Corn Flour Powder Makke Ka Atta Fresh
NutriTokri Whole Corn Flour | Makke Ka Atta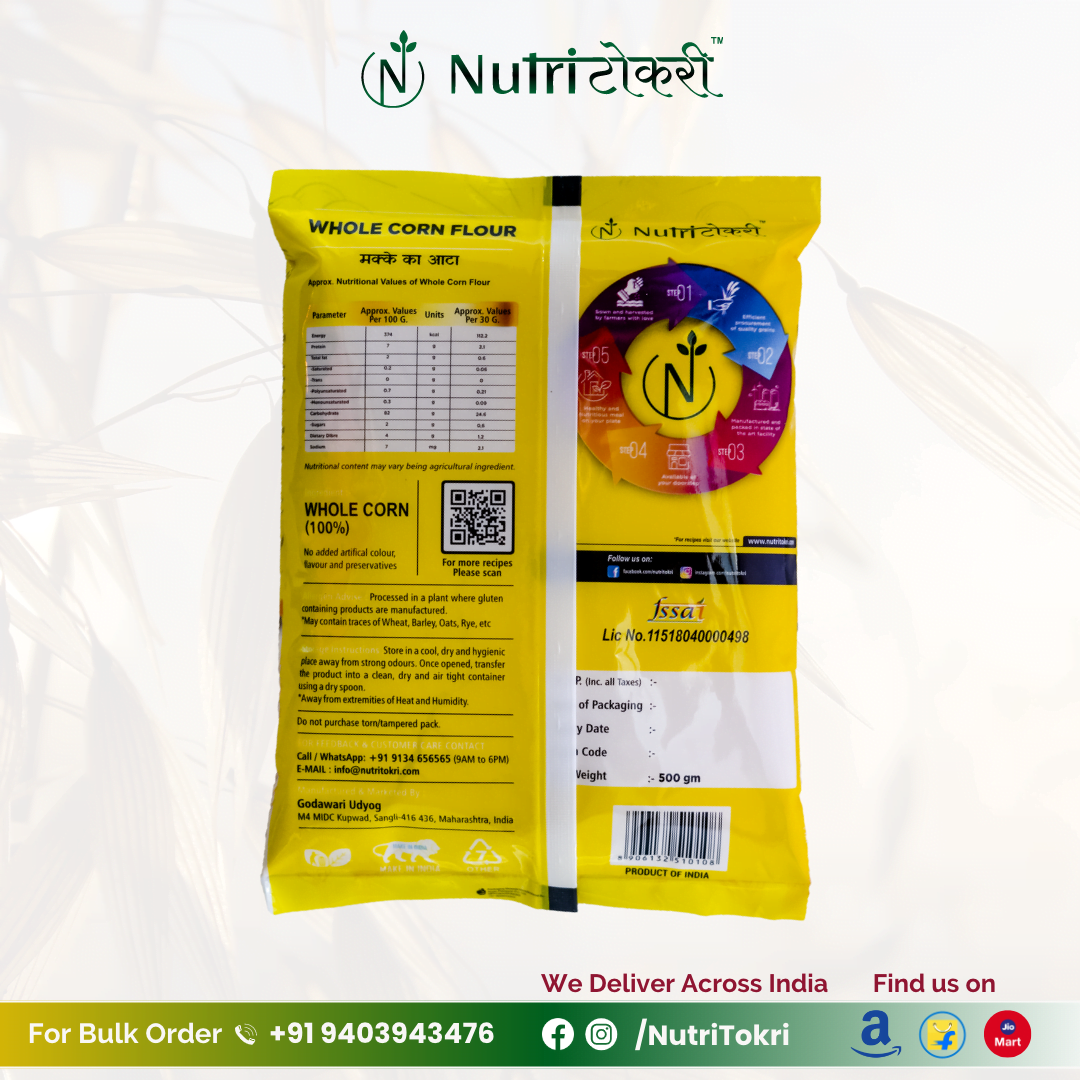 Welcome to Nutritokri, your one-stop destination for high-quality corn flour! We take pride in offering you the finest selection of corn flour products that are not only delicious but also nutritious. Our commitment to quality ensures that you receive the best corn flour for all your culinary needs.
At Nutritokri, we understand the importance of using superior ingredients in your cooking. That's why we source our corn flour from trusted suppliers who follow stringent quality standards. Our corn flour is made from premium quality corn kernels, carefully milled to a fine consistency that is perfect for a wide range of recipes.
Why choose Nutritokri's Corn Flour?
Unmatched Quality: We believe that quality is non-negotiable when it comes to food products. Our corn flour undergoes rigorous testing to ensure that it meets our high standards of taste, texture, and purity. With Nutritokri, you can be confident that you're getting the best corn flour available.

Versatile and Delicious: Whether you're baking, frying, or thickening sauces, our corn flour is incredibly versatile. It adds a delicate flavor and a smooth texture to your dishes, enhancing their overall taste. From crispy cornbread to delectable tortillas, our corn flour is the perfect ingredient for your favorite recipes.

Nutritious and Gluten-Free: Corn flour is naturally gluten-free, making it an excellent choice for those with dietary restrictions or sensitivities. It is also a good source of essential nutrients, including dietary fiber, vitamins, and minerals. By incorporating our corn flour into your meals, you can enjoy both the taste and the nutritional benefits.

Convenient Packaging: We understand the importance of convenience in your busy lifestyle. Our corn flour comes in resealable packaging, ensuring freshness and easy storage. You can use it as needed and keep the rest sealed tightly for future use.

Trusted Brand: Nutritokri has gained a reputation for delivering exceptional food products that meet the highest standards of quality. When you choose Nutritokri's Corn Flour, you're choosing a brand that cares about your satisfaction and well-being.
Health Benefits
Nutritional Facts
Storage and Uses
Usage and Recipes
Health Benefits
Corn flour, offered by Nutritokri, not only adds a delightful taste and texture to your favorite dishes but also provides several health benefits. Here are some of the health benefits you can enjoy by incorporating our corn flour into your diet:
1. Rich in Dietary Fiber: Corn flour is a good source of dietary fiber, which plays a crucial role in maintaining digestive health. Adequate fiber intake can help prevent constipation, promote regular bowel movements, and support a healthy digestive system.
2. Gluten-Free Alternative: For individuals with gluten sensitivities or celiac disease, corn flour serves as a fantastic gluten-free alternative. It allows you to enjoy a wide range of dishes without the discomfort or adverse health effects associated with consuming gluten.
3. Provides Essential Nutrients: Corn flour is packed with essential nutrients that contribute to your overall well-being. It contains vitamins such as niacin, thiamine, and folate, which are important for energy production, brain function, and cell growth. Additionally, corn flour contains minerals like iron, magnesium, and phosphorus, which are necessary for maintaining healthy bones, muscles, and various bodily functions.
4. Supports Weight Management: Due to its high fiber content, corn flour can help promote satiety and control hunger pangs. Including it in your meals can assist in managing your appetite and reducing overall calorie intake, thereby supporting weight management goals.
5. Promotes Heart Health: Corn flour contains beneficial plant compounds like antioxidants and phytosterols, which are known to support heart health. These compounds help reduce the risk of cardiovascular diseases by lowering cholesterol levels, improving blood flow, and protecting against oxidative stress.
6. Boosts Energy Levels: As a rich source of complex carbohydrates, corn flour provides sustained energy throughout the day. It can be particularly beneficial for athletes or individuals engaging in physical activities, as it replenishes glycogen stores and aids in muscle recovery.
It's important to note that while corn flour offers several health benefits, moderation and balanced nutrition remain key. Incorporate it into a well-rounded diet that includes a variety of other whole grains, fruits, vegetables, lean proteins, and healthy fats.
Choose Nutritokri's Corn Flour to enjoy these health benefits while relishing delicious meals. We prioritize quality and strive to provide you with the finest corn flour to enhance your culinary experiences and support your well-being.
Nutritional Facts
Storage and Uses
Usage and Recipes