Scrumptious Cornflour Chakli Recipe | Nutritokri Cornflour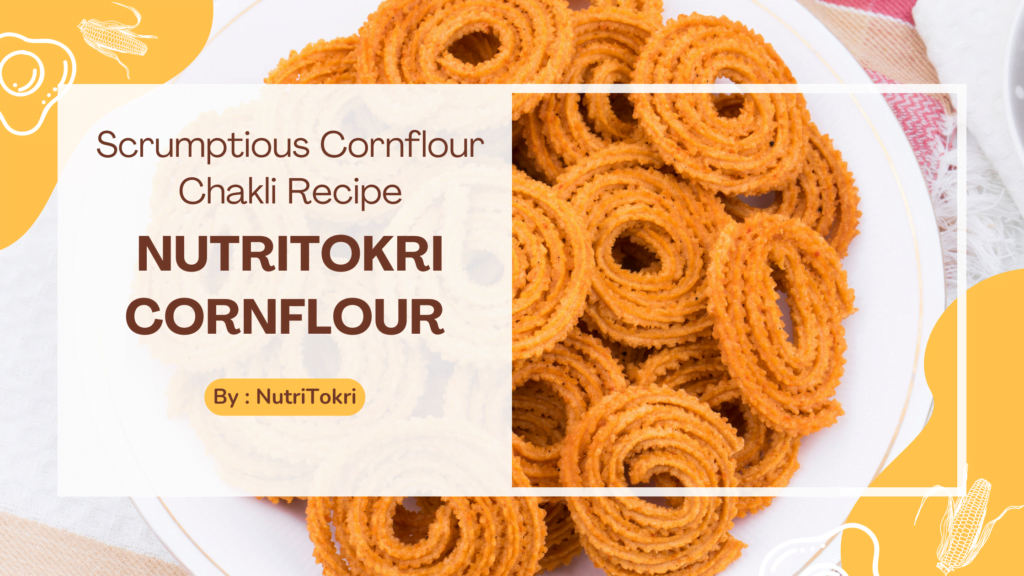 Get ready to savor the addictive crunch of Cornflour Chakli, a delightful snack that combines the goodness of cornflour with a burst of flavors. Nutritokri Cornflour brings you this easy and delectable recipe that will leave you craving for more. Follow the simple steps below and treat yourself to these irresistible treats.
1 cup Nutritokri Cornflour
½ cup NutriTokri Rice flour
2 tablespoons gram flour (besan)
1 teaspoon cumin seeds
1 teaspoon sesame seeds
½ teaspoon turmeric powder
½ teaspoon red chili powder
Salt to taste
Water for kneading the dough
Oil for deep frying
In a mixing bowl, combine Nutritokri Cornflour, rice flour, gram flour, cumin seeds, sesame seeds, turmeric powder, red chili powder, and salt. Mix well to ensure even distribution of the spices.
Gradually add water to the dry ingredients while kneading the dough. Adjust the water quantity as needed to achieve a smooth and pliable dough consistency.
Heat oil in a deep frying pan or kadai over medium heat.
Meanwhile, divide the dough into small portions and shape them into cylindrical rolls.
Attach the chakli maker or sev maker with a star-shaped plate to form the chakli.
Gently press the dough through the chakli maker in a circular motion, forming spiral shapes directly into the hot oil.
Fry the chakli until they turn golden brown and crispy. Flip them occasionally for even frying.
Once done, remove the chakli from the oil using a slotted spoon and drain the excess oil on a paper towel.
Allow the chakli to cool completely before storing them in an airtight container.
Repeat the process with the remaining dough, frying a few chakli at a time.
Ensure the dough is not too soft or too hard, as it can affect the shape and texture of the chakli.
Adjust the spices according to your preference to make the chakli more or less spicy.
Store the chakli in an airtight container to retain their freshness and crispiness.
Why Choose NutriTokri Oat Flour for Oat Bread?
When it comes to corn flour, Nutritokri stands out as the ultimate choice for discerning cooks and food enthusiasts. Our commitment to delivering exceptional quality, purity, and unmatched taste sets us apart from the rest. Discover why Nutritokri Corn Flour is the go-to option for elevating your culinary creations and taking your dishes to new heights of deliciousness.
Superior Quality: At Nutritokri, we prioritize quality at every step of the production process. Our corn flour undergoes rigorous quality checks, ensuring that only the finest corn kernels are used to create our premium flour. The result is a product that guarantees consistent quality and superior performance in all your recipes.

Purity Assured: When you choose Nutritokri Corn Flour, you can be confident that you're selecting a product that is free from any additives, preservatives, or artificial flavors. We believe in preserving the natural goodness of corn, allowing you to enjoy the pure, authentic taste in every dish you prepare.

Unmatched Taste: Taste is paramount, and Nutritokri Corn Flour delivers an unparalleled flavor profile that enhances the taste of your favorite recipes. Whether you're making crispy snacks, delectable batters, or savory gravies, our corn flour adds a distinctive taste that will captivate your senses and leave a lasting impression on your palate.

Versatility: Nutritokri Corn Flour is incredibly versatile, making it an essential ingredient in a wide range of dishes. From baking fluffy bread to thickening soups and sauces, our corn flour provides excellent texture and consistency, allowing you to achieve perfect results in your culinary endeavors.

Trusted Brand: With Nutritokri, you're choosing a brand that has gained the trust and loyalty of countless customers. Our commitment to quality, transparency, and customer satisfaction has made us a preferred choice among cooking enthusiasts and professionals alike.
Elevate Your Dishes with Nutritokri Corn Flour: Experience the difference that Nutritokri Corn Flour brings to your kitchen. Elevate your culinary creations and unlock a world of flavors with our premium corn flour. Choose Nutritokri for superior quality, purity, unmatched taste, and the assurance of a trusted brand. Elevate your dishes with Nutritokri Corn Flour today!
Nutritokri Cornflour presents the delightful Cornflour Chakli recipe, a perfect blend of crunch and flavors. With our easy-to-follow instructions, you can prepare these addictive snacks in no time. Enjoy them as a tea-time treat or serve them during festive occasions. Indulge in the deliciousness of Cornflour Chakli and experience the magic of Nutritokri Cornflour!