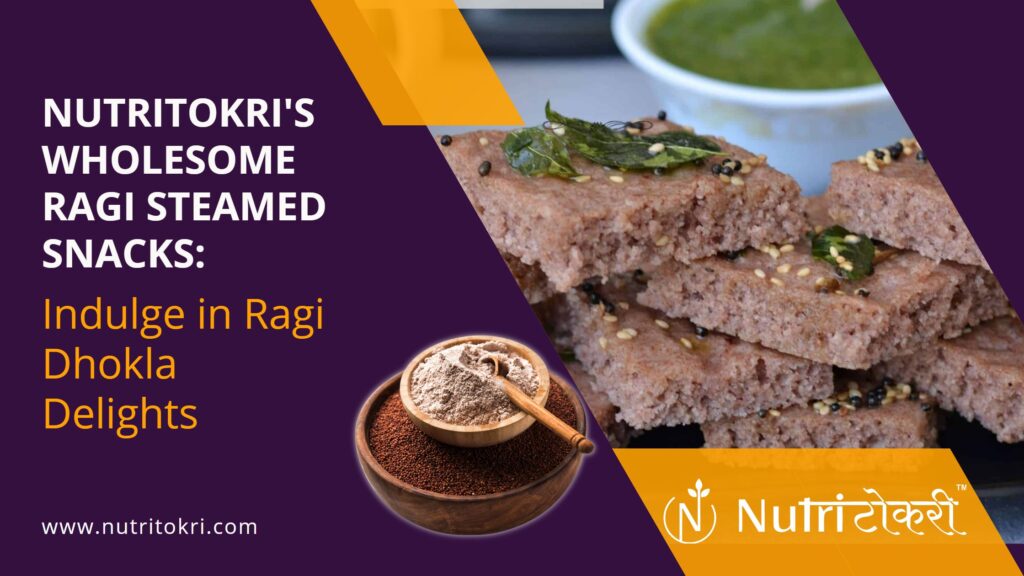 Ragi flour, also known as finger millet flour, is a versatile and nutritious ingredient that adds a healthy twist to various dishes. In this blog, NutriTokri introduces you to a delightful recipe for Ragi Dhokla, a steamed snack that combines the goodness of ragi flour with the traditional flavors of dhokla. These nutrient-packed steamed treats are not only delicious but also contribute to a balanced and wholesome diet.
Why Choose Ragi Flour for Steamed Snacks like Dhokla?
Ragi flour offers several benefits when used in steamed snacks like dhokla:
Nutritional Powerhouse: Ragi flour is rich in dietary fiber, calcium, iron, and essential amino acids. It supports digestion, strengthens bones, boosts energy levels, and promotes overall well-being.

Gluten-Free Goodness: Ragi flour is naturally gluten-free, making it an excellent choice for individuals with gluten sensitivities or those following a gluten-free diet. It allows everyone to enjoy the delectable flavors of dhokla without compromising on health.

Low Glycemic Index: Ragi has a low glycemic index, which means it releases glucose into the bloodstream slowly. This helps in regulating blood sugar levels and keeping you satiated for longer periods, making it an ideal choice for those with diabetes or seeking weight management.
For Dhokla Batter:
1 cup NUTRITOKRI's Ragi flour.
1/4 cup besan (gram flour)
1/4 cup suji (semolina)
1/2 cup yogurt (curd)
1 teaspoon ginger-green chili paste
1/2 teaspoon turmeric powder
Salt to taste
1 teaspoon Eno fruit salt
Water, as needed
For Tempering:
2 tablespoons oil
1 teaspoon mustard seeds
1 teaspoon sesame seeds
Few curry leaves
2 green chilies, slit
In a mixing bowl, combine ragi flour, besan, suji, yogurt, ginger-green chili paste, turmeric powder, and salt. Mix well to form a smooth batter. Add water gradually to achieve a thick but pourable consistency.

Grease a steamer plate or a shallow dish with oil. Set it aside.

In a large pot or steamer, bring water to a boil.

Just before steaming, add Eno fruit salt to the batter and mix gently. The batter will become frothy.

Pour the batter into the greased steamer plate or dish and place it inside the steamer.

Steam the dhokla on medium heat for about 15-20 minutes or until a toothpick inserted in the center comes out clean.

Once done, remove the steamer plate from the steamer and let it cool slightly.

For tempering, heat oil in a small pan. Add mustard seeds and let them crackle. Then add sesame seeds, curry leaves, and slit green chilies. Sauté for a minute and turn off the heat.

Pour the tempering evenly over the steamed dhokla.

Allow the dhokla to cool completely and then cut it into desired shapes.

Serve the nutritious ragi dhokla as a snack or as a part of a meal, along with green chutney or tamarind chutney
NutriTokri presents the scrumptious Ragi Dhokla recipe, incorporating the wholesome goodness of ragi.